Dear Ladies,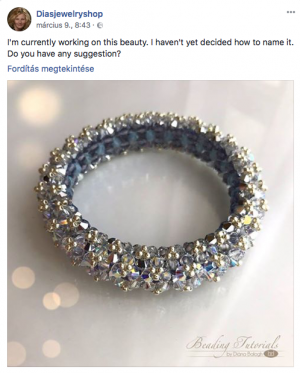 Thank you very much all of you for your help, and the many and appropriate name suggestions.
I shared this post in more Facebook groups, and I received more than 35 great names for this bracelet. It was very hard for me to decide.
Finally I chose the name, which received the most likes: 'Lady Di'.
You can find the name suggestions here, on the end of this blog post.
If I finish the tutorial, I will send a 30% coupon in private message to all of you, who wrote a suggestion, as appreciation for your help, and a free tutorial to Kristi Paulson Mingus, who submitted the finalist.
Thank you very much, and happy beading!
Dia
❊ ❊ ❊  The names  ❊ ❊ ❊
Glory of beauty
Eternity
Crystal beauty
Tiara bangle
"Dressed for Success"
Lady Di
Ice Enchantment
An old song comes to mind … crystal blue persuasion
Galaxy Glitter
Tri-di-mond cuff
Sparkle
The Elsa
Star of Love
Diana's Beauty Bracelet
I think Beauty fits perfectly x
La grande bellezza
Brazalete… Luz de luna
Queens Crown or Queens Jewels. Idk but it immediately made me think of a queen!
Sparkling halo!
First thought before I read your post? Looks like Crown Jewels!
Starstruck
The Queen's Ice
Royal Reflections
Glory
Sparkle!
Razzel Dazzel!
Radiance
Brightling
Silver Moon
Ring of Fire and Ice
Tango nights
Engaged
Orion's Belt, starry night?
Wonder Woman's Wrists!
Mayfair
The tutorial is available in my store >>
❊ ❊ ❊
Join my mailing list.
Stay tuned about new art and new lessons!
Warning
: compact(): Undefined variable $mailchimp_list in
/wp-content/plugins/yit-newsletter_off/templates/shortcodes/newsletter_form.php
on line
55
Warning
: compact(): Undefined variable $widget in
/wp-content/plugins/yit-newsletter_off/templates/shortcodes/newsletter_form.php
on line
55